Welcome to the new release hop!
as you may have heard Smeared Ink has a rubber club, and its a club where you can get your hands on some yummy Smeared Ink rubber stamps! each month they have a different stamp set that you can buy if you are a member, and this month they have two brand new stamps sets by the artist Alexandria S. the sets are called Abyss and Winged Things...you can read more about the rubber club and sign up
here
now onto my awesome creations.
now be gentile with me this is my first time creating a canvas...but can I just say it was so much fun! it definitely wont be my last!
I used images from the Abyss they are hanging in my bathroom,
and the husband loves them! although with a mermaid looking like that who wouldn't ;)
I added a lil skull to both of them...don't know why...it just looked cool...these have lots of awesome texture, and they are shimmery and cool...the shells came from Hawaii and I'm glad I could give them new life!
ok now onto the rest of the hop with you! have fun and don't forget to leave lots of love on your way!!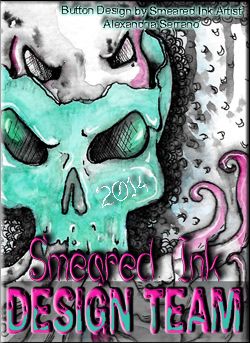 Rebecca
I would like to enter my pieces in the following challenges: